4 Ways to Spend 4th of July Weekend with the Momentary

Make the Momentary part of your 4th of July weekend plans! From cocktails to artworks to moments of meditation, we have plenty of activity happening this weekend for you to enjoy either at the Momentary or from your own home.
If you are planning on visiting in person, we are currently offering limited capacity, timed-ticket entry. Visitors must register for a timeslot and will receive an email prior to their visit with information about how to prepare and what to expect. Timed tickets help ensure the space has limited attendance per state guidelines.
Visitors and staff are also required to wear face coverings. Per state guidelines, face coverings are required for visitors ages 10 years and older. At the Momentary, face coverings are recommended for ages 2-9. Masks will be available upon entry for those who do not have one.
Get your FREE timed tickets here, and let us know when we can expect you.
Here are four ways to spend 4th of July weekend with the Momentary: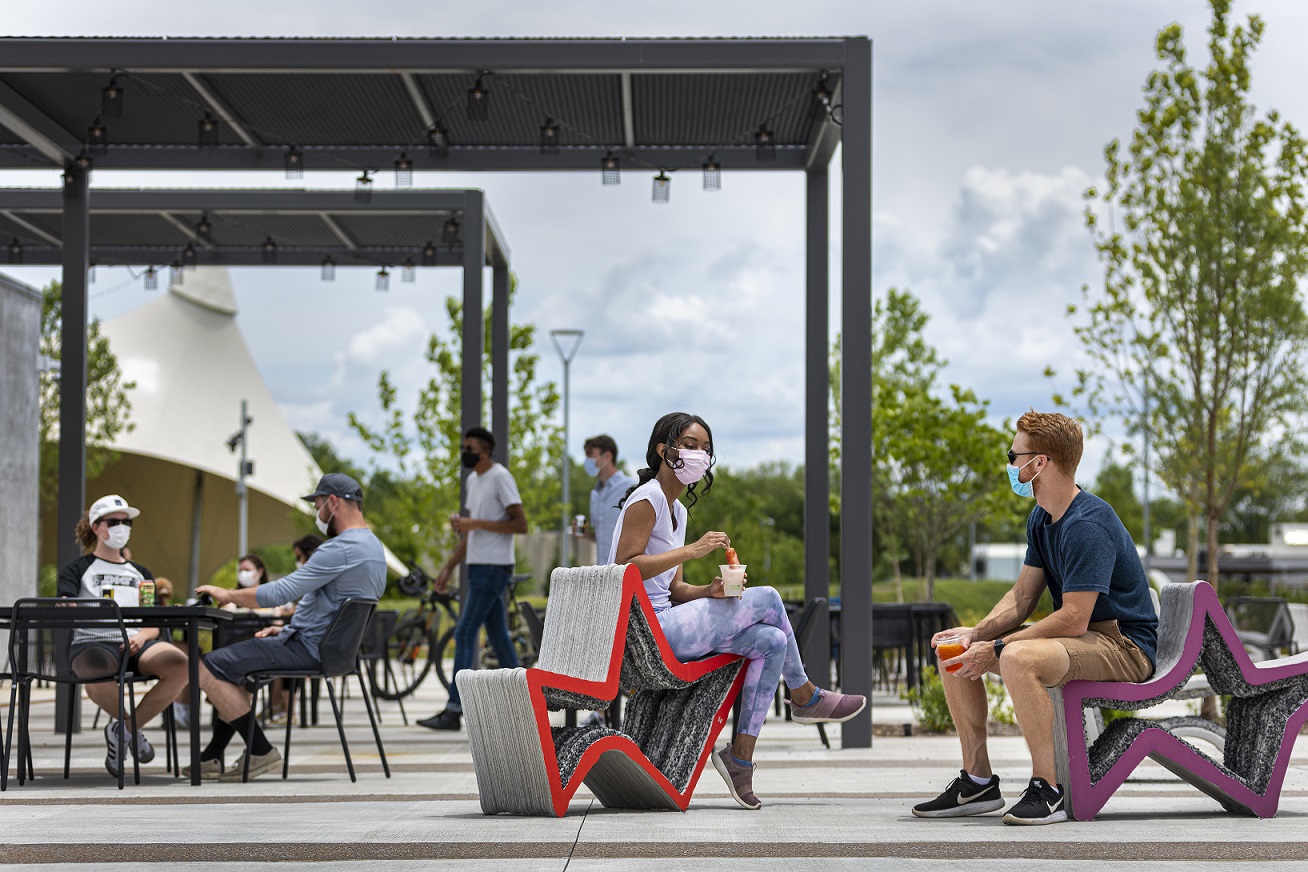 1. Have an outdoor drink or frozen pop at the RØDE Bar and food from the grill
Enjoy our newest summer edition―The RØDE Bar! Located off our performing arts space, the RØDE House, and near the RRRolling Stones, this outdoor bar provides great refreshments for all ages. If you're out biking on the Greenway, this is a perfect place to take a break, some may say.
To celebrate the holiday weekend, we're planning a few fun days of food and beverage out there, including festive drinks such as Red, White, and You (for the adults) or a Bottle Rocket Pop (for the kids). And if you've visited the RØDE Bar lately, you know that we love frozen pops! We'll have those, too. Recipes can be found below for those who want to try making them at home.
We'll be rolling out the BBQ grill on Friday-Saturday, July 3-4, and collaborating with some fresh patriotic pairings, including:
Caprese Chicken Sausage with tomato-basil bruschetta
Jalapeno-Cheddar Bratwurst with Thai spiced bean sprout slaw and rosé Mustard
Spicy Italian Beyond Bratwurst with broccoli slaw, malt vinegar aioli & Cajun-spiced crispy chickpeas
Grilling and drinks at the RØDE Bar will be served on Friday, July 3, 4 to 7 p.m. and Saturday, July 4, 11 a.m. to 7 p.m. The RØDE Bar will serve drinks only on Sunday, July 5, from 11 a.m. to 4 p.m.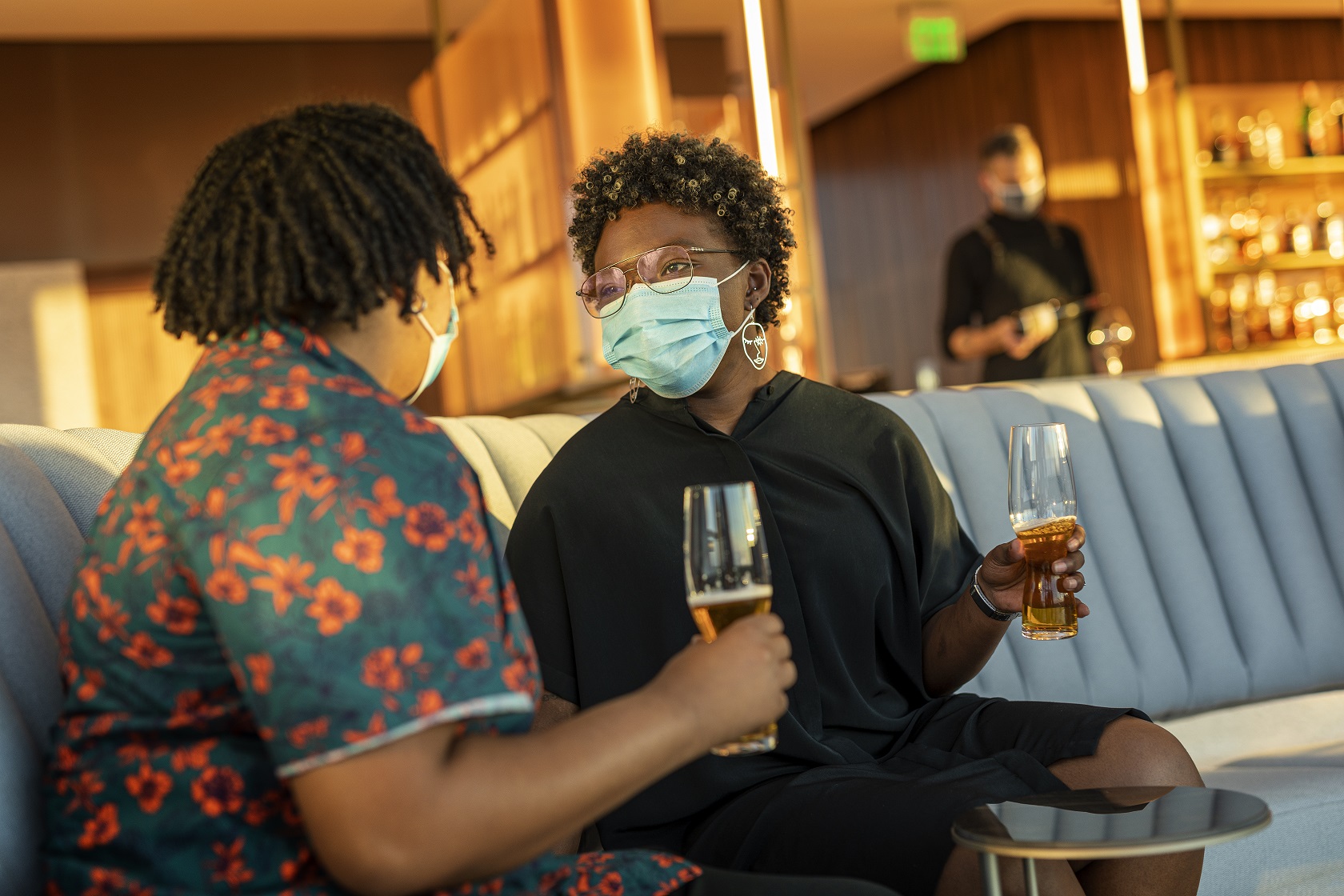 2. Or try a festive cocktail from the Tower Bar
Perhaps you'd like a more crafted cocktail? Then the Tower Bar is your scene and Field of Dreams is your drink. We've provided the recipe for it below or come to the Tower Bar and have it made for you by the Tower Bar-tenders!
The Tower Bar opens to the public at 5 p.m. Tuesday-Saturday with limited seating.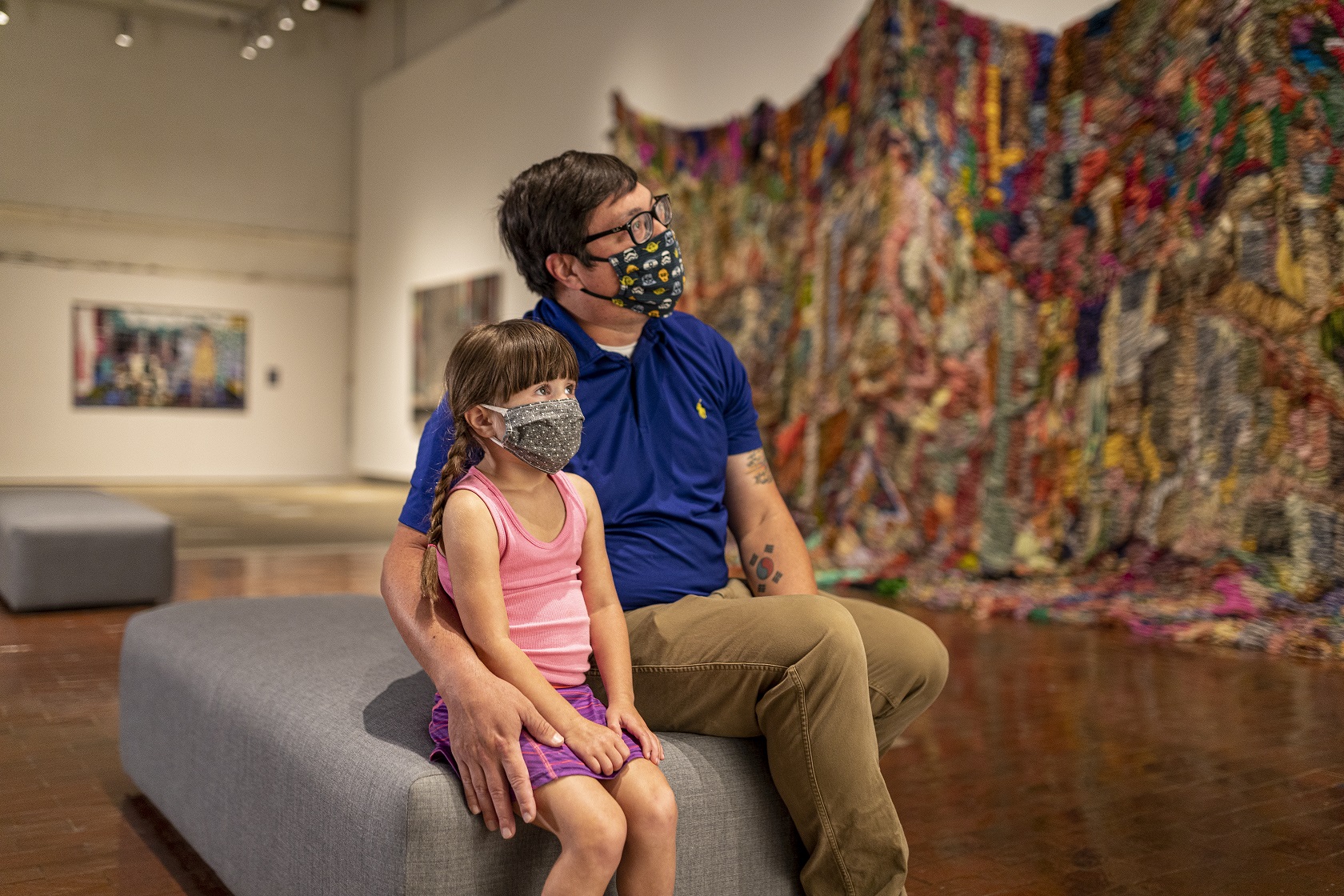 3. Explore art inside and outdoors around the grounds
State of the Art 2020 in the galleries features the work of 61 US artists from across the country. Full exhibition is open through July 12. Artworks will remain on view in the Lobby Gallery through August 16. Face coverings are required for visitors ages 10 years and older.
Don't miss outdoor art projects around the Momentary as well, including Ivan Navarro's This Land Is Your Land water towers in the North Courtyard, the Momentary Flag Project on the historic flag pole on E Street, and the iconic neon-pink You Belong Here sign by Tavares Strachan. Learn more about our visual arts projects here.
Want to view from home? No problem! You can experience State of the Art 2020 from the comfort of your own home. Take a video tour of the exhibition led by one of its curators, Crystal Bridges Associate Curator, Contemporary Art, Alejo Benedetti.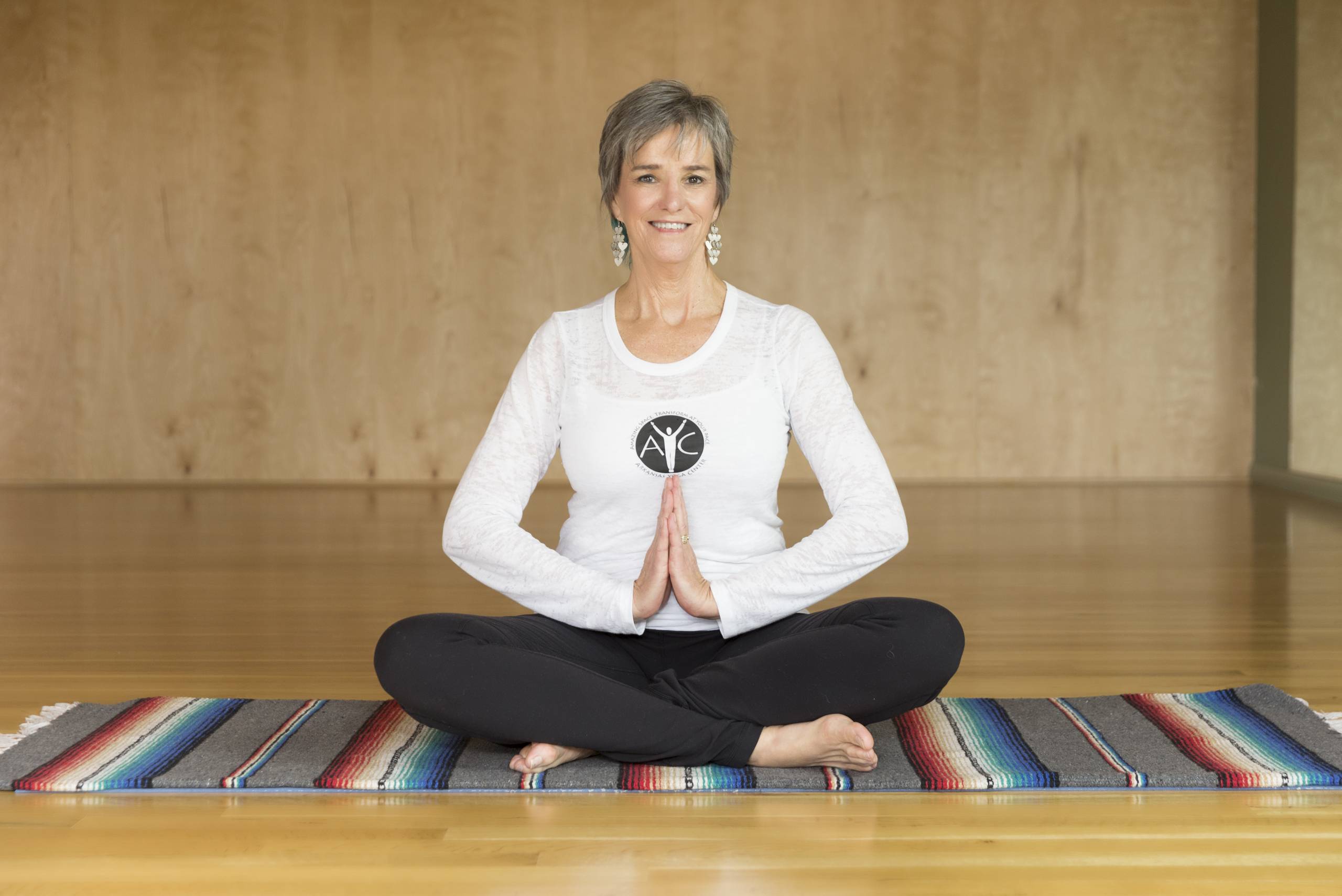 4. Enjoy a moment of meditation with Sunday Reset
Sunday Reset provides a fresh start for minds and bodies by engaging in different forms of meditation. Join us on Sunday, July 5 at 10 a.m. as Andrea Fournet of Arkansas Yoga and Therapy Center leads us through meditation and yoga practices. The class will be available online live via the Momentary's YouTube or Facebook pages.
Cocktail Recipes
Find recipes for the RØDE Bar and Tower Bar cocktails here to make at home!
Recipes submitted by Jena Barker, Momentary Beverage Manager.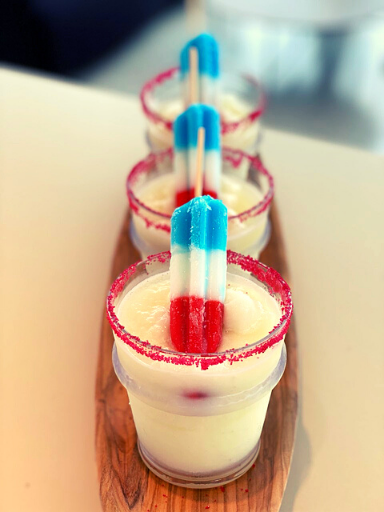 For the adults:
RED, WHITE, AND YOU
Ingredients:
8 oz Blanco Tequila
1 oz Triple Sec (Cointreau)
2 oz Simple Syrup
1 cup Lime Juice
1 cup Ice
1 Frozen Fruit or Ice Pop
Instructions:
Place all ingredients into a blender and blend until smooth. Pour into a wide-mouth margarita glass or a rocks glass. You can "salt" the rim with red sugar. Place your favorite frozen fruit pop into the glass, upside down, and use it as a dipping spoon. Yum!
Pro Tips: 
If you don't have Cointreau on hand, substitute fresh orange juice.
You may also use an 8 oz. can of Limeade, and follow the instructions for a margarita, listed on the label.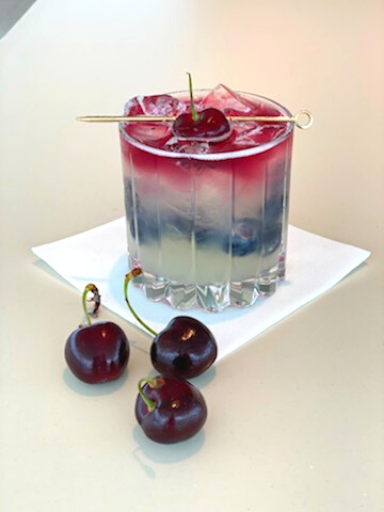 FIELD OF DREAMS
Available only in the Tower Bar.
Ingredients:
2 oz Finlandia Vodka

1 oz Pinot Noir

1 oz Blueberry Syrup (Simple Syrup stewed with Fresh Blueberries)

1 oz Fresh Squeezed Lemon Juice

6 Fresh Blueberries

3 Maraschino Cherries
Instructions:
Pour blueberry syrup and fresh blueberries into the bottom of the glass, then fill with ice. In a shaker tin, mix vodka and lemon juice. Shake and strain into a rocks glass. Top with your favorite pinot noir wine. Serve with a gold metallic straw and 3 maraschino cherries skewered onto a gold cocktail pic.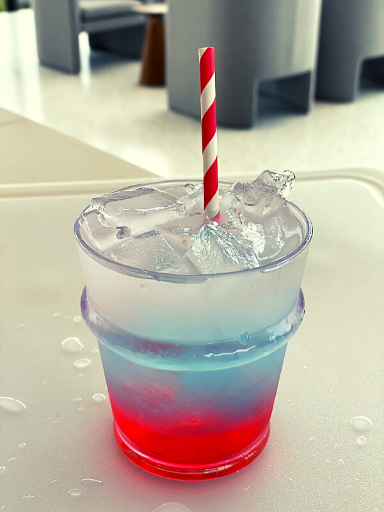 For the kiddos:
BOTTLE ROCKET POP
Ingredients:
2 oz Maraschino Cherry Syrup

4 oz Coconut Juice Beverage (we used a low sugar coconut-pineapple juice drink)

2 oz Blue Kool-Aid or Sports Drink

1 Red or Blue Frozen Pop or Red Twizzlers Candy Stick
Instructions:
Start with a layer of cherry syrup to the bottom of glass and fill with ice. Add coconut juice beverage to ¾ full, and then blue Kool-Aid, juice or sports drink to fill. Clip the ends of a long red Twizzlers candy stick for use as the straw, or plunge your favorite ice pop right into the drink.
Pro Tip:
For layered drinks, place beverages with higher sugar content to the bottom.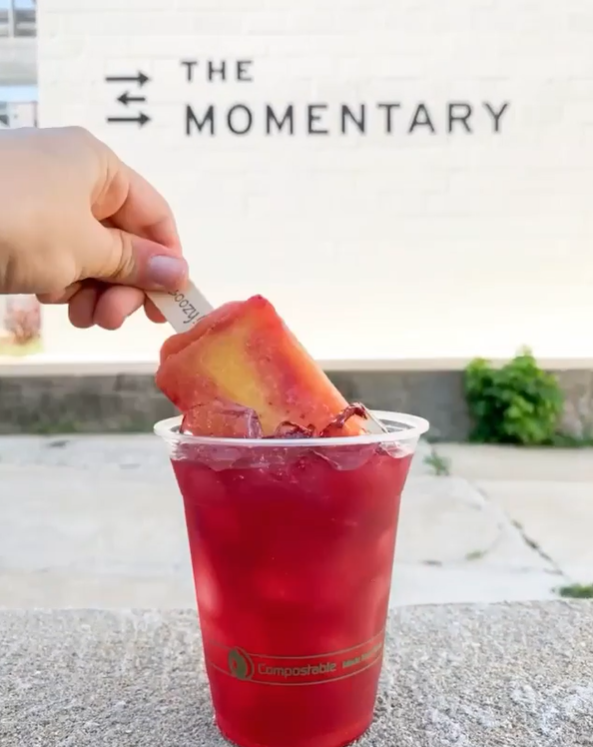 MAKE YOUR OWN FRUIT POPS (It's Easy!)
Ingredients:
¼ cup Sugar

¼ cup Water

1 ½ cup Fresh Strawberries (or any fresh fruit)
Instructions:
Whisk sugar and water in a saucepan over medium heat until sugar is dissolved. 2 to 3 minutes.  Let cool. Blend fresh strawberries, and sugar syrup mixture together in a blender until smooth. Pour mixture into ice pop molds and freeze until firm (2 hours).
Pro Tips:
You can make an adult boozy pop by adding 1½ tablespoons of vodka to the mixture before freezing.  

For a tri-color layered effect like those pictured, simply freeze the liquid between each pour, for at least 1 hour.  

For a Red, White, and Blue effect, try using strawberries, blueberries, and cream cheese layers together for an extra decadent pop.