WHICH TIME BEING PERFORMANCE IS PERFECT FOR YOU? (2 OF 3)

TIME BEING is the Momentary's inaugural festival of performance taking place during the Momentary's opening weekend—Saturday, February 22 and Sunday, February 23, with a Momentary Member Preview Friday, February 21. Featuring artists from around the world, TIME BEING offers dance, music, and theater experiences.
If you're eager to attend TIME BEING but aren't quite sure which events you'd like to attend, this blog series is for you! We've offered up a list of similar interests that align with each event, as well as personal insights from our Dance/Theater Programmer, Cynthia Post Hunt. Keep reading to learn more about 4 of the 12 TIME BEING events, find your favorite(s), and book your tickets today!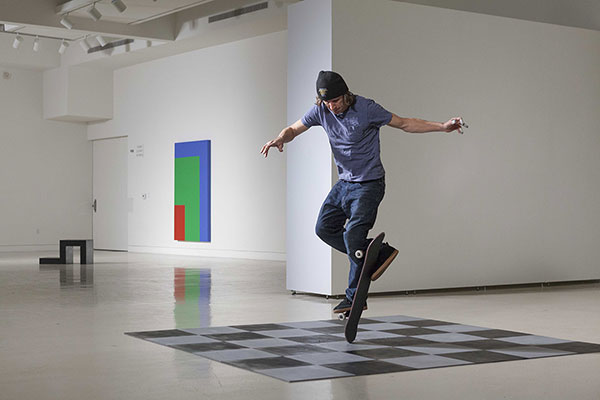 SKATEBOARDERS VS MINIMALISM, SHAUN GLADWELL
This video by Australian artist Shaun Gladwell is a conceptual group-self-portrait of skateboarders and sculptors in which a museum setting transforms into a skate park and the body into a tool to be used. The project is a conceptual group-self-portrait of skateboarders and sculptors, two radical "species" to which Shaun Gladwell not only feels to belong—but who he actually is: both a skateboarder and a sculptor.
Skateboarders vs. Minimalism features the world's best freestyle skater Rodney Mullen, together with North Carolina-based Hillary Thompson (the first openly transgender professional skateboarder) and colleague Jesus Esteban, with sound composed by American composer Philip Glass. The video takes place within a museum environment, as the artist states that "the streets are our museums."
For Gladwell, "minimalism offers such great forms for skateboarders to ride on. It is a formal issue. The forms are simple and clean—perfect for skateboarding."
IF YOU LIKE:
Modern art
Donald Judd, Carl Andre, Dan Flavin
Touching art in the museum
Skateboarding
Kickflips, ollies, and wallrides
Thrasher magazine
Embracing a rebellious nature
THEN YOU'LL LOVE SKATEBOARDERS VS MINIMALISM.
Cynthia's Insight: These minimalist works of art are a perfect parallel to the rebellious nature of skateboarding culture. As the artist mentions – these are both conversations about form. Beautifully shot, this video encompasses the spirit of the Momentary!
This event is free! Showtimes are Friday, February 21, 8:15 pm; Saturday, February 22, 7:15 pm, 8:15 pm; Sunday, February 23, 6:15 pm.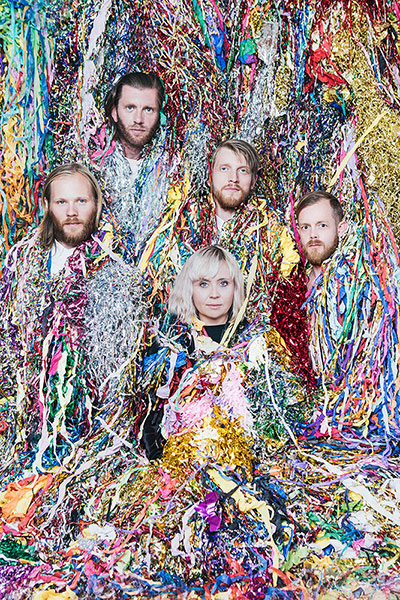 FM BELFAST
FM Belfast is not just a band. It is a community, a force, a friend. Renowned for their confetti-laden electro-pop and fun live shows, this oddball, energetic, and colorful Icelandic supergroup has been perfecting the art of reading an audience and connecting with it for the past dozen years. It's an art of performing that can—and will—induce unique and euphoric states in large crowds during TIME BEING. Whether it's delayed flights, bankrupt airlines, or 27 incidents of lost luggage, nothing will stop them from creating a great moment with you.
FM Belfast have seen it all, from crowd-surfing at a tiny hamburger place in Norway with less than 20 people in the audience to warming the stage for The Flaming Lips in Sydney for tens of thousands of dancing people. Their music is at the same time harsh and technical, warm, embracing and organic, thoughtful, giddy and inclusive. Nothing will take your mind off winter better than an evening of party and happiness in the warm embrace of FM Belfast. Enjoy – we haven't got eternity. Let's have fun immediately!
IF YOU LIKE:
Dance parties
LCD soundsystems at their most energetic
Pure, good feeling bacchanalia
Dancing like nobody's watching
Lights, rainbows, streamers, confetti, and oh so much glitter
Getting swept away by celebration
Not taking yourself too seriously
THEN YOU'LL LOVE FM BELFAST
Get your tickets here. Student tickets for this event are $10!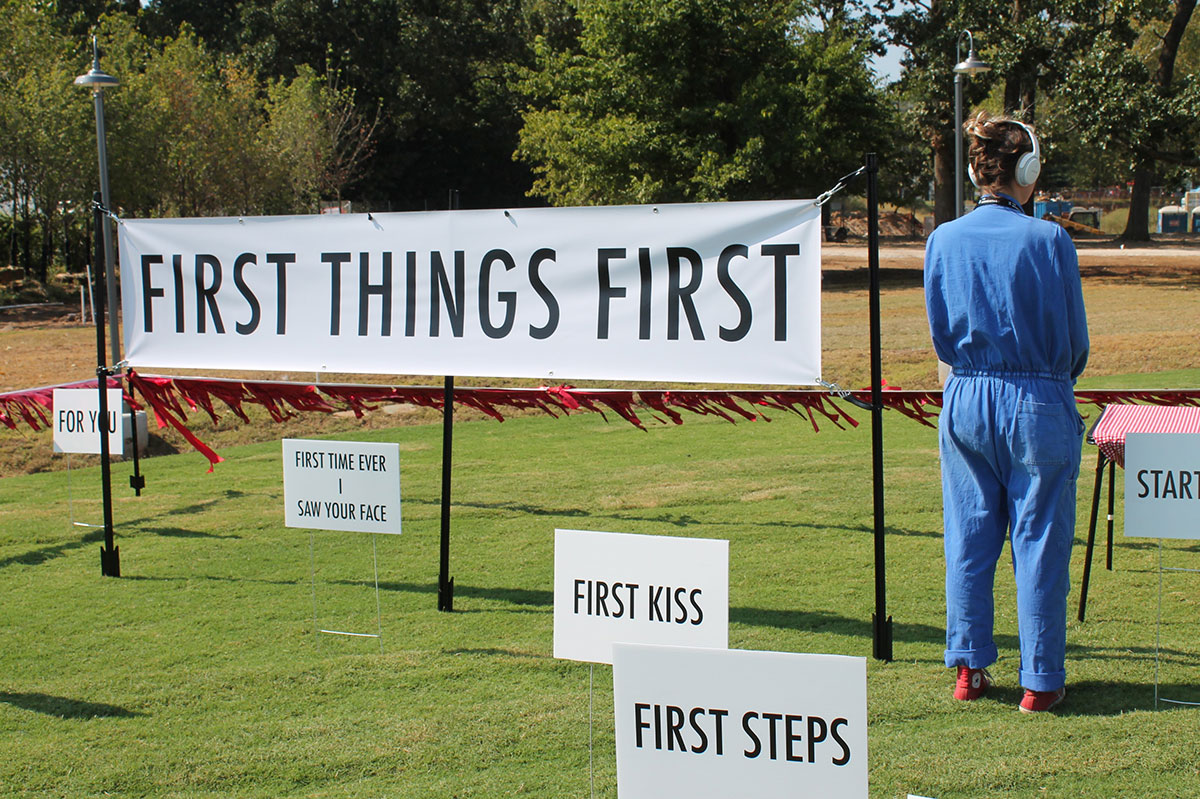 FIRST THINGS FIRST, FOR YOU
Every first, a beginning. A first kiss turns the other's lips into a bloody mess; turkey served from a first return to mother's recipe; a woman makes history as the first Latina to win a local race. First Things First is a ceremony dedicated to you and your firsts. We invite you to commemorate the 'first-time' stories we collected from individuals in Northwest Arkansas by way of a procession, a scrapbook of live tableaus, and a communal dance performed in the spirit of grand openings.
IF YOU LIKE:
Marching bands
Roller derby
First time stories
Truth or Dare
Games
Improv
Awkward moments
THEN YOU'LL LOVE FIRST THINGS FIRST.
Cynthia's Insight: If you've met the artists of For You, then you know what I mean when I say that these artists are magic! Completely entranced by Northwest Arkansas, For You may just move in! They have concocted a show inspired by our first-time stories, with performers from our local community. They have recruited our roller derby team, Bentonville West's marching band, and many of you to join in the celebration of our 'first' time opening the Momentary. This show is full of surprises and a great way to enjoy your weekend with friends and family.
Get your tickets here. Student tickets for this event are $10!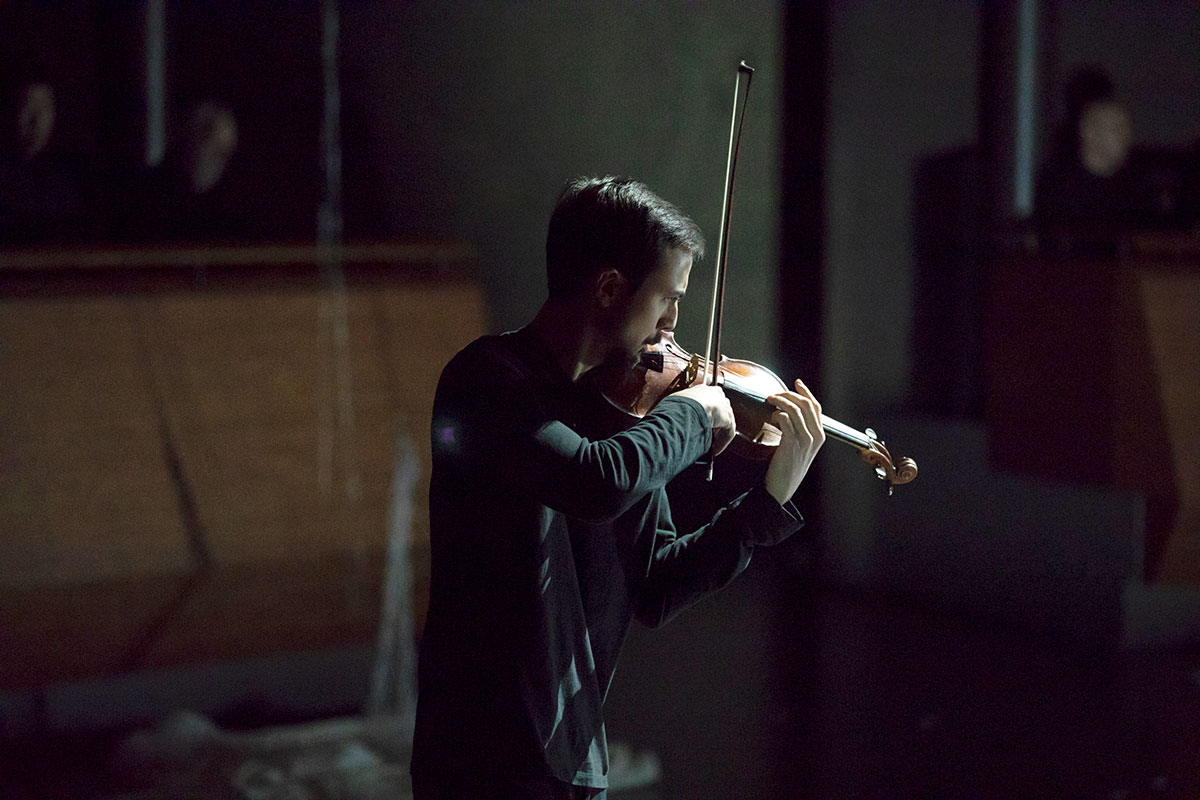 KEIR GOGWILT
In addition to his TIME BEING collaboration with dancer Bobbi Jene Smith (as seen in Part I of this blog series), violinist Keir GoGwilt will perform free solo recitals in the Momentary's interior tower.
IF YOU LIKE:
Classical music
Poetry
Concert recitals 
Industrial chic
THEN YOU'LL LOVE KEIR GOGWILT.
This event is free! GoGwilt will perform on Saturday, February 22 at 12 pm and Sunday, February 23 at 3 pm.
Find the perfect TIME BEING event(s)? Book your tickets today! We look forward to welcoming you during opening weekend, February 22-23.